003. Sample Book Vol.01 ...in the making
Sep 13, 2016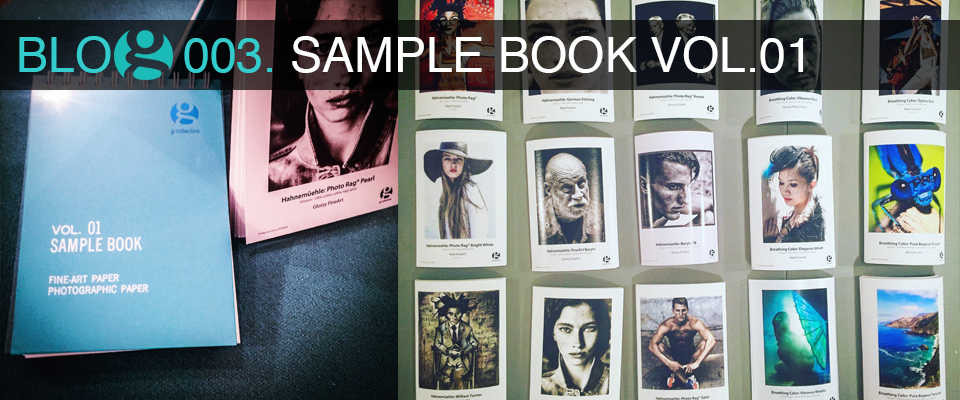 Introducing the Limited Edition, G-Collective SAMPLE BOOK Vol.01 - Seafom Edition.
Now available for purchase HERE.
In addition to the increased longevity and archival stability of aqueous pigment printing (100-200+ years), one of the key benefits it offers is the vast media selection available to you as an artist! Unlike most other Fine-Art Printing studios, who only offer a handful of basic media choices, G-Collective prides itself in offering you one of the widest selections of over 30 different media choices. From smooth to textured, matte to glossy, baryta & metallic photographic and fine-art papers, to canvas and so many more, we've got just the right paper for your next fine-art printing job.
But, with so many media options to choose from, how can you make an informed choice and maximize the effect of your fine-art prints?
The G-Collective Media Sample Book Vol.01 contains a selection of 28 of our current-favorite media offerings by top paper manufacturers Hahnemühle and Breathing Color, with prints hand-chosen to best represent the strengths of each paper. Running test prints on multiple paper types can get expensive real quick! Take advantage of our Sample Book instead and take control of your next printing project!
But, not only is the Sample Book a useful tool, it's 28 luxurious pages of original fine-art photography by some of our favorite G-Collective Artists, which will surely be a great conversation piece for your studio or a beautiful edition to your coffee table!
Watch this jazzy little video trailer to see our handcrafted Sample Book in the making...
LTD.ED. Artist Signed copies available upon request...
Photography by: JP Boo-seko, Christopher Alvarez-Hkns & Brian Cullen
Original Music written, performed & produced by: Bjak